50/50/50 Experience! Help Us Help 1000 Families earn 6 figures in 2015!
Among the many amazing reasons to start your own at home business. The most rewarding is being able to not only add additional income to your home front, but being able to introduce others to an amazing and rewarding opportunity. Network to networth! I am proud to be a part of one of many amazing opportunities. Total Life Changes was born in the United States and is a 15 year old business which up until the last 18 months did most of its business in South America. Our corporate offices are located in Ira, Michigan, and we have roughly 8 warehouses and distribution centers globally. We not only have over 30 amazing products that really work, but we also have one of the most lucrative and generous dare I say compensation plans I have ever seen in MLM. Let me again reiterate how phenomenal our products are, and how they have not only helped me to become more health conscious, but also assisted me on my weight loss journey. Thanks to these products I was able to lose 13 pounds in just 13 days! My total weight loss to date is 22 pounds! Our CEO Mr. Jack Fallon created our flagship product in his home garage with the goal in mind to offer several all natural and affordable products that would help you sustain a normal quality of life and offer immediate gratification. We are proud to serve 8 remarkable industries to include, Weight loss, Health and Wellness, Energy and Longevity, Performance Enhancement, Beauty, Gourmet Coffee, Shapers and Garments, and the Home Based Business. Our compensation plan is designed so that we are paid not 1 but 5 different ways. Starting with what I like to call the 50/50/50 experience! Our compensation plan allows you to earn immediate cash flow from the first level with our 50% commission split on all retail sales from your absolutely FREE e-commerce website. 50% Fast start bonus for all new enrolled partners, and 50% check match at the assigned level, and this is only the beginning! There are still 2 additional ways we are paid starting with our Hybrid Binary which pays you a residual commission on those you personally refer to this business between 10%-25% depending on your level through your second generation. You will build two teams. Your power leg and your pay leg. You are paid commission on the lesser or weakest leg. And lastly is our Lifestyle bonus. This bonus is truly amazing in that you are paid a monthly dividend of $1500.00 at the level of National director. This bonus can be used anyway you like and is designed to help you maintain the lifestyle of a network marketer. Man there is a lot of meat and potatoes on this plate and I hope you are ready to dive in! I am dedicated to helping 1000 families earn 6 figures in 2015 and I am looking for some phenomenal partners to help me achieve this goal! For more info visit www.betterlifein5.com or Listen now at 518-777-4062.
---
No comments yet
---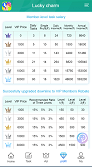 Member Ad
Free Silver Bar Business
Claim Your FREE Silver Bar & Discover How You Can Profit from the Greatest Wealth Transfer in History!
---
Support
Privacy Policy
Affiliate Terms
Terms of Use
Testimonials