My Experience with Live Good- Greatest Opportunity of All Times (GOAT)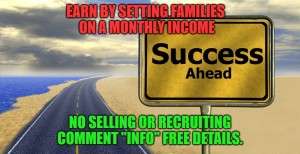 When I was introduced to the Live Good opportunity, I was not too keen on joining.
Selling health supplements combined with a network marketing system was not my thing.
So, I stayed away.
One day I got an email from an online marketer, Edward Keyte, with a link to the video.
When I understood the system, I saw big potential.
In addition, I have been following Ed by watching his videos.
So, I joined Live Good a couple of months ago.
Short Progress Report
I am a bronze member with 40 members in my downline.
That means now I am operating in profit mode.
By attaining 40 people in my downline, my monthly membership is paid for.
This is possible because I am getting 25 cents from each active member in my downline;
It also proves that Live Good Program works.
Two points related to that:
I can promote the program because it works.
Note I am not a good salesperson, and I was never comfortable in network marketing.
Now that I know the system functions as it was intended. 
 Note the system functions is dependent on how members drive the system, thus earnings may not come as fast as you want. But sooner or later you will come close.
Why did I join Live Good?
No Selling of Product(s)- The Live Good basic concept is unique. You are asking people to become a member of Live Good. The membership enables a member to get health products at over 75% off the retail price. The membership offers an opportunity to earn up to $2000 per month in revenues without recruiting or selling.
The highlight of Live Good
From my perspective, the best part of Live Good is that you can approach people not so much by enrolling as a member but by enabling members to set up income for family members and their loved ones. So, it is not that you are recruiting but you are setting members for a designated earning system. It is truly a system that can set people all over the world with desirable income levels.
Just like anything else in life, it is up to you how you promote the program. I would like to promote Live Good because it will provide necessary income relief, so people are ready and prepared for upcoming economic upheaval. Live Good can also get extra money during their golden years. It will be almost like getting an extra social security check.
You can check out the system FREE here.
You can schedule a FREE consultation here.
---
---
No comments yet
---
Member Ad
Start Here
Ready to join the company voted #1 in direct sales? No quotas, inventory or recurring product purchase requirements. Start your online biz for $50 off through Jan 31. Take my hair quiz to get started.
---
Support
Privacy Policy
Affiliate Terms
Terms of Use
Testimonials