Forget traditional bank financing, Loan Alternatives Help When Banks Won't!
Small to medium size businesses can get the working capital they need and use it for whatever purpose they need it for. Do you need to catch up on late bills or payroll? Want to renovate or expand? Want to increase your inventory or upgrade your equipment? Need to buy out a partner? Or move locations? How about marketing / advertising? Need a new company vehicle? Heck, you can take a vacation if you want! Or go back to school and finish that degree! The point is, you can use the money for whatever purpose you see fit. Here are the highlights of our funding program:
Get up to $1,000,000 in 5-7 days
Approval within 48 hours
Unsecured / No collateral needed
No interest
No credit check
Short terms (average length 19-36 months)
Simple application / no obligation
Items needed:
3 Months Credit Card Statements
3 Months Bank Statements (or if no credit card account, 6 months of Bank Statements)
1 page easy application
Benefits to you:
No collateral
No fixed payments
No impact on a business owners's ability to qualify for other financing
No business use restrictions on the funding
No hassles - quick application and fast funding
What types of businesses should apply?
Restaurants
Salons / Spas
Auto repair shops
Liquor stores
Grocery stores
Convenient stores
Clothing retail
Florists
Dentists
Hotels & Motels
any business that has daily receipts or a steady revenue stream should apply
The company I represent, Mom & Pop Business Funding, has been providing business owners with working capital throughout the US ever since alternative financing began. Our funding procedures are much faster, more effective and are simple for business owners to take advantage of. With reps in all 50 states and an approval rate of 90 percent plus, you are just a phone call away from a small business loan alternative. Feel free to take a look at our website for even more information OR you can just get in touch with me and I will answer any questions you have and get you on your way to the financing you desire. The business loan world has changed over the years, and small to medium sized businesses are finding it increasingly more difficult to get access to working capital and business loans too. More and more, banks are saying "no" to small and medium size businesses leaving them to seek out loan alternatives. We advance up to two times a businesses gross monthly business bank receipts. Simply put, monies earned in the future are borrowed upon today. Repayment is automated and simple. Regardless of how, if you are in need, you will find help here. That's what we do so get in touch with me @ joansmobilemarketing@gmail.com to apply at no cost and with no obligation. Just think, this time next week, you could be smiling all the way to the bank!
---
No comments yet
---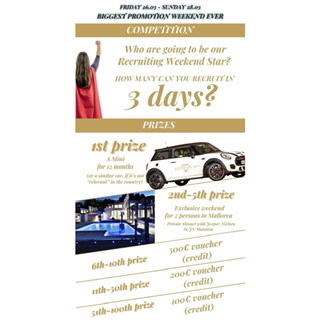 ---
Support
Privacy Policy
Affiliate Terms
Terms of Use
Testimonials