Birmingham - Health Conference
Birmingham - Health Conference
"Everyone is the author of their own health or illness" - Buddha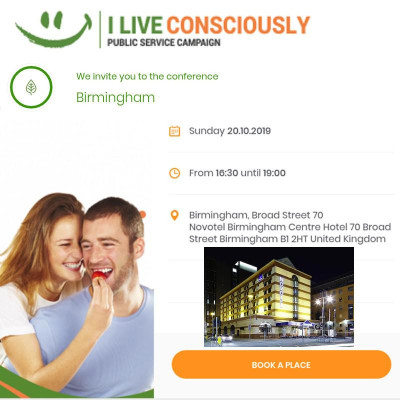 Coping with the threats of modern life has become a real challenge.
This conference will provide you with knowledge on:
- Relieving fatigue, anxiety, hyperactivity and depression
- Cardiovascular diseases and joint problems.
- How to effectively detoxify the body of toxins and rebuild normal bacterial flora in the digestive tract.
- How to improve your metabolism and regenerate internal organs.
- How to increase absorption of consumed products and ability to absorb calcium.
- How to effective strengthening of the immune system and prevention of cancer.
- How to fight against parasites and Lyme disease.
The World Health Living Foundation invites you to the LIVE AWARE conference, which will be led by two outstanding lecturers:
Dr. h. C. Piotr Kardasz
Biologist, teacher and journalist. Author of scientific work, many publications and films on phytoremediation. Winner of the "Eureka 2003" award. Co-founder and Head of the Scientific Council of the Institute of Health Prevention. He claims that his life passion is spreading knowledge about a healthy and responsible lifestyle, and thus stimulating the desire to make informed choices that will in the future result in improving the lifestyle of each of his listeners.
and
Gloria Adigve
A consultant in the field of physiotherapy, a former lecturer at the University of East London, currently undergoing PhD in Health and Biological Sciences at the University of East London.
Book a place today here:
https://whlf.eu/conference/konferencja-zdrowia/birmingham/444?lang=en
#softmarketing #dietarysupplements #healthylifestyles #healthclub
ABOUT THE WORLD HEALTHY LIVING FOUNDATION
The World Healthy Living Foundation was established on 30th December 2015 at the initiative of Bartosz Królikowski, Piotr Pacyga, Norbert Janeczek and Łukasz Godyń. The main vision of the Founders was to create an organisation that would actively promote actions for improving health of the society, popularising active lifestyle and change of the surrounding reality for favourable to people who fight for their dreams, smile and health.
The name of the Foundation is to remind that our life is our own responsibility. To live counsciously is to take care of comprehensive development and physical and mental activity that has an influence on our future and present life.
The Foundation conducts also chargeable forms of activities, trainings, conferences. It organises chargeable events and parties. The profits from the activities are used by the Foundation to co - finance statutory activities.
The Foundation mostly subsists from support of sponsors and work of volunteers. The Foundation gathers many followers from the world of science, sport, business and culture, as a result of which it may conduct a comprehensive activity in order to popularize conscious life.
---
---
No comments yet
---
Member Ad
Earn from home weekly
Change your brand of daily consumables like Toothpaste, soap, body cream, sanitary pad, etc and get paid weekly plus other incentives like Cars, House Fund $150,000, University Scholarship,etc
Member Ad
30 MIn Workday
The 30 Minute Workday™ Introducing The Work Less, LIVE More Lifestyle of The 30 Minute Workday!™Where Jobs Are Optional... But FREEDOM isGet Started Today
---
Support
Privacy Policy
Affiliate Terms
Terms of Use
Testimonials