UPFRONT COMMISSIONS of $5K-$20K or MORE HELPING BUSINESSES - PLUS RESIDUALS
MAKING UPFRONT COMMISSIONS INTO THE THOUSANDS PLUS RESIDUALS IS FOR REAL.
The evolution of DAVID ALLEN CAPITAL Inc. (DAC) has been dramatic over the past 8 yrs.
I have watched this company grow over the past few years and it's been nothing short of dramatic.
Traditional businesses in America & Canada have always been the backbone of our Countries.
There are over 35 million small businesses in America and Canada as of last year.
Although things may change as far as how businesses do business, one thing is for sure; there
are two things that businesses always eventually need to sustain success and growth:
1) The always eventually need more funding to sustain and grow
2) The need the services & technology to keep up with the times.
The problem with those to essential needs:
1) 80% of small businesses can not get funding from the BIG BANKS
2) The escalating cost of some essential services can make basic operations very cost prohibitive
That's where DAVID ALLEN CAPITAL comes in and truly become the HEROES of the small business world..
DAC FUNDING OPTIONS:
GUARANTEED "Best Offer" Business Funding
Funding programs based on Cash-flow NOT credit score
Self-employed and gig - INSTANT funding
Business lines of credit
Equipment financing
Asset backed funding
SERVICES:
Payment processing savings program
Employee retention tax credit
Employee payday advance
HIGH APPROVAL RATE - NO APPLICATION FEES!
AGENTS WANTED: HERE'S WHERE YOU COME IN...
DAC AGENT PROGRAM:
NO license required - you'll be a marketing/referral agent
Personalized websites/links for all services
Marketing materials for all products/services
Can work with ANY BUSINESS in both the U.S. and Canada
Higher commissions for agents, 40% - 80% plus overrides
Opportunity to build a team of agents and overrides
Great online training and weekly zoom meetings
IMPORTANT POINT: As Independent agents, we're basically bringing them clients, possibly answering a few questions for prospects but for the most part, we're marketing and sending prospects to the specialists within the DAC system. More often than not, clients go directly to the site/system and apply.
My background has been Marketing/Advertising for over 35 years so I know the best, simple low cost and FREE methods of bringing in new prospect EVERY WEEK. Here's an example of an ad I created that has done very well: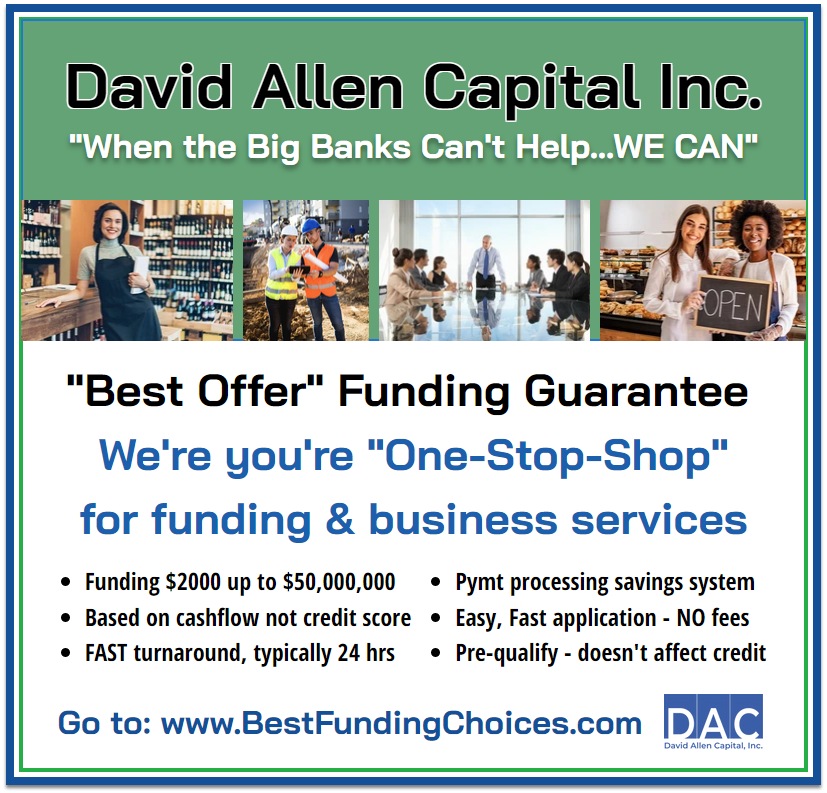 FOR COMPLETE DETAILS:
Here's a link to my main site for prospects: Click here
Here's the link to the Agent Opportunity Overview: Click here
Questions? Contact my anytime:
DAC Agent: Kellen Burgos
800-228-9316
BusinessSolutionsAgent@gmail.com
---
---
---
Member Ad
Join me!
JOIN THE TRILLION DOLLAR MOVEMENT! Building a Global E-Commerce organization touching lives in nearly 30 countries!
---
Support
Privacy Policy
Affiliate Terms
Terms of Use
Testimonials