Harmony of health and beauty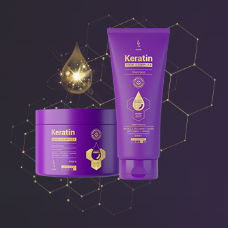 Harmony of health and beauty
we would like to present the shampoo and conditioner DuoLife Keratin Hair Complex Advanced formula
By continuing research based on a holistic approach to issues related to broadly defined health care, we have created more products combining health-improving properties with care for natural beauty. We would like to present you Keratin Hair Complex Advanced Formula Shampoo i Keratin Hair Complex Advanced Formula Conditioner , shampoo and conditioner with unique properties that will let you take care of your hair and scalp.
Both products give rise to a brand new product line - Advanced Formula . Products from the Advanced Formula line, which are rich in active ingredients, are a solid foundation for achieving perfect results. They help to keep the scalp in good condition, as well as support the protection, care, revitalization and regeneration of hair!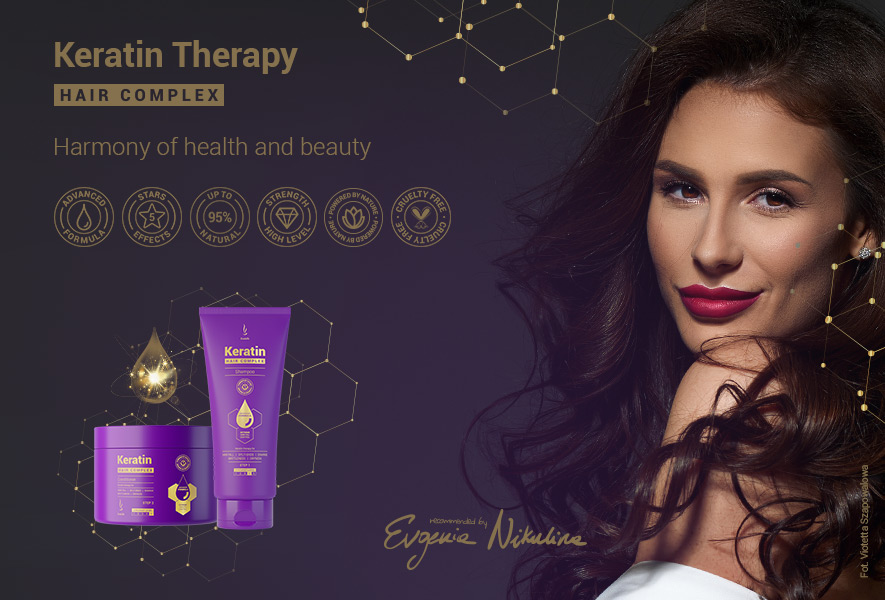 The technology of Advanced Formula comes down to two steps:
Step one – DuoLife Keratin Hair Complex Advanced Formula Shampoo.
Step two – DuoLife Keratin Hair Complex Advanced Formula Conditioner .
Both products are well-suited for everyday use, forming an effective and nutritious keratin therapy, ideal for:
dry hair
damaged hair
hair loss
hair with split ends
hair lacking radiance
The great advantage of both products from the Advanced Formula series is their rich composition, based on raw materials certified by ECOCERT/COSMOS. Compared to other cosmetics of this type, the shampoo and conditioner feature the high naturalness index.
The cosmetics from the Advanced Formula line perfectly complement the DuoLife Kertain Hair Complex dietary supplement. By combining the advantages of the preparation in liquid form with the unique properties of the shampoo and conditioner, you will comprehensively take care of health and proper condition of hair and scalp, while maximizing mutual effects.

As an introduction of a brand new product line draws near, we prepared a unique promotional campaign for you. Only now when buying the Keratin Hair Complex: Liquid Formula, shampoo and conditioner , , as a gift you will get a fancy packaging that will look great under each Christmas tree. Don't miss out and give your loved ones pure beauty from nature!
DuoLife Keratin Hair Complex
Duolife Keratin Hair Complex is a unique product in the world market of dietary supplements.
It is a complex action in 3 steps:
The product helps hair grow
It reduces hair loss
It adds more hair density and volume.
Natural plant extracts smooth hair making it resilient and shiny. Clinical formula of the supplement and the latest technologies allowed to design a product of which the qualitative and quantitative composition is a reflection of hair composition.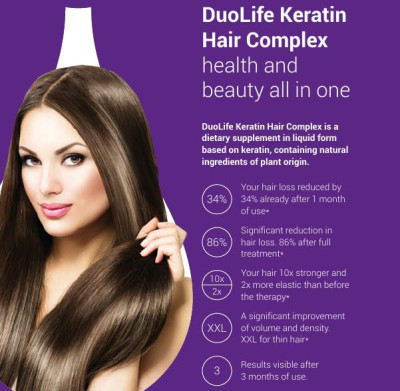 Keratin Hair Complex is a dietary supplement in a liquid form which is based on keratin and the content of natural ingredients of plant origin. They are protected by international patents.*
DUOLIFE KERATIN HAIR COMPLEX HEALTH AND BEAUTY IN ONE
☑ Hair loss reduced by 34% after a month of use **
☑ Significant reduction of hair loss. 86% after a full treatment **
☑ Your hair is 10x stronger and 2x more flexible than before the treatment **
☑ Significant improvement of volume and density. XXL for thin hair **
☑ Results visible after 3 months of using **
The product ingredients are 100% natural and were clinically tested. Their efficiency is confirmed with tests concerning the hair growth and condition. The materials used in the process of formulation have a proved effect in case of oral application and are intended to be used by men and women.*
COMPLEX ACTIVITY IN 3 STEPS
STEP I - Keratin Hair Complex helps hair grow
Black rice and prickly pear extract stimulates hair growth through induction to multiplication of papillary cells present in hair follicles. So-called "baby hair" is the effect.
STEP II - Keratin Hair Complex reduces hair loss
Unique composition of ingredients was selected in order to optimise the process of hair stimulation and restoration. All ingredients supplement each other creating a liquid Hair Nutrition Keratin Therapy. The formula prevents excessive hair loss.
STEP III - Keratin Hair Complex adds hair density and volume
Keratin Hair Complex contains Amla fruit which is a source of important vitamin C. The deficiency of vitamin C results in deteriorated scalp condition, affecting the process of hair shaft creation and resulting in hair loss problems. The grape seed extract included in the product influences nutrition and stimulation of hair bulbs. The ingredients determine an improved hair structure and sealing of its protective layer.
See more...
Let your every day be a special day…
* Applicable to selected ingredients.
** The test was performed in the group of 21 people. The verification of effectiveness was checked every 2 weeks of use. The test was performed in a testing laboratory.
---
---
No comments yet
---
Member Ad
Bonus + Commissions Résiduelle
Nous offrons non seulement une rémunération avec bonus lors de vente, mais également une commission fixe et évolutive selon votre volume total dans vos 2 équipes dans la plus grosse industrie mondiale
---
Support
Privacy Policy
Affiliate Terms
Terms of Use
Testimonials