Opportunity With Stream
Stream began in 2005 with a simple, innovative idea—selling energy by word of mouth. This unique position quickly made us the largest direct selling energy company in the world, with over $7 billion in revenue in just six states. Energy was just the beginning. In addition to our flagship product, today we offer life essential services and a business opportunity in all 50 states. Stream. We offer energy services (Electricity, and Natural gas) in states that have deregulated. In every other state including the deregulated states, we offer mobile services, Protective services (Identity Protection, Virtual Md, Tech Support, Roadside Assistance). Stream is devoted to promoting the lives of our associates; each level of promotion has a huge benefit ties to it, and there have been a lot of testimonies of how God has improved the lives of people through us. My upline national director has been blessed with four Mercedes-Benz cars and with his recent promotion has a tesla on it's way. God owns all the glory for all these because we are only but stewards. I love the stream concept because you really don't have to be your own customer.
What does freedom look like to you?
Whether it's more time, more money or the chance to work from home, everyone has their own vision. See how Stream has helped people like you reach their goal of freedom. The beauty of the Stream Opportunity lies in its simplicity - you don't have to stock inventory, maintain a quota, or go door-to-door. Instead, you simply refer your friends to Stream services. When they become a customer with Stream, you get paid. You cannot carry any electricity watts around, or any mobile gigabytes. We provide life essential services to the consumers at a more affordable price. Nevertheless, an old saying goes "If you sell a chevy, then you should drive a chevy." For our energy sector, we pay out compensations for early terminations and the consumer is absolutely protected. Stream is committed to supporting philanthropic efforts throughout our communities. Currently, we partner with Cell Phones for Soldiers, donating cell phones and services to veterans with each mobile customer our Associates enroll. It's our way of showing support and appreciation to the men and women of the Armed Forces and providing our Associates with the opportunity to do the same.Learn more about the stream opportunity at www.moneyfromstream.com. Visit www.faithworks.mystream.com to sign up today and start earning unlimited residuals.
---
No comments yet
---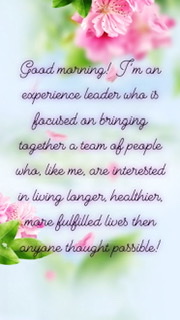 Member Ad
My Daily Choice
Are you bored at home?Stuck in lockdown?Join me in a journey of health and wealthThere is no right timeonly timeand how you spend itchoose lifeMy Daily Choice
---
Support
Privacy Policy
Affiliate Terms
Terms of Use
Testimonials