Why being ordinary when u can be EPIC
Epic Trading is an American MLM company that teaches Forex from scratch to mastery... and they also have daily trade signals.
EPIC trading is a platform that gives you the ability to learn the skillset of trading in the Forex market. The platform is unique and unlike others before because it allows you to learn hands on with top notch trainers that provide live trade sessions,
daily signals, the epic university, and an interactive trading community.
EPIC stands for Exceptional people incredible compensation
And is an international business that puts you in position to set yourself free financially!
The worlds ultimate trading and lifestyle community
From Monday 4th of Jan. they will be including Crypto currencies and binaries to their services and because of this upgrade, the registeration fees will move from $100 to $135.
The MLM part of Epic Trading is great and easy to start earning.
1st when you enroll 3 people under you, you pay an IBO (Independent Business Owner) fee of $14.99 then Epic Trading gives you a scholarship, which means you don't have to subscribe after each month.
When your downlines further increase to 12, you get paid $150 weekly
When your downlines further increases to 30, you get paid $250 weekly
When your downlines further increases to 80 downlines you get paid $500 weekly
When your downlines further increases to 250 downlines you get paid $1250 weekly
When your downlines further increases to 500 downlines you get paid $2500 weekly
When your downlines further increases to 1000 downlines you get paid $5000 weekly
When your downlines further increases to 2500 downlines you get paid $12500 weekly 
When your downlines further increases to 5000 downlines you get paid $25,000 weekly 
When your downlines further increases to 15,000 downlines you get paid $50,000 weekly
When your downlines further increases to 40,000 downlines you get paid $125,000 weekly
When your downlines further increases to 75,000 downlines you get paid $250,000 weekly
With the world having new innovations everyday, this is a great deal to earn residual incomes without even having to go to work (that's why it's called residual incomes...lol)
However, if you wanna get involved in this company you gonna have to get registered with $99.99 before Monday when the fees will become $134.99
You can also check out the website... epictrading.com
I also have a 12 min YouTube video that'll give you an overview
https://youtu.be/DNpVzXL8Mxo
Whatsapp me: +2348027066973
---
---
No comments yet
---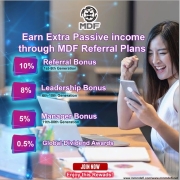 Member Ad
Golddynasty
Ever dream of becoming wealthy doing a simple step inquiring gold and have a simple business model by just Duplication is key to succeed in this business.sign up free
---
Support
Privacy Policy
Affiliate Terms
Terms of Use
Testimonials