Catch the Second Wave! Natural Health by Xango & Zija Revolution with friends!
Hello, welcome my friends......I'm working one great health opportunity which change my life...I'm looking to connect with peoples around the world to spread my network in all countries in world. If you are interested in hear more about this amazing opportunity let me know that... Yes I was in Xango too. I been with Xango for 14 years. They were just bought out three month ago I think by Zija International. It going be a great opportunity because of the Mangosteen and Moringa Olefera products. The Moringa weight loss products and Xango juices / Xanthones and Zija Essential Oils.
This company is solid as a rock, with Ken Brailsford at the helm and with 45 plus successful years in this industry and NO failures you can feel very safe and secure when you offer these products to your friends and relatives. If you have any reservations about jumping into this company with both feet, you're going to kick yourself in the near future. Catch the second wave, come join our winning team with our two billion brands, the Mangosteen fruit and Moringa Oliefera the M&M's. Sounds kind a Catchy.
We all know the science behind the Mangosteen juice, but for the ones that are not failure with the Moringa Oleifera check out the youtube click below. Discovery Channel documentary, Moringa- The Miracle Tree. https://youtu.be/dwdpphecZUg
Moringa has an impressive range of medicinal uses with high nutritional value. Different parts of this plant contain a profile of important minerals, and are a good source of protein, vitamins, beta-carotene, amino acids and various phenolics. The Moringa plant provides a rich and rare combination of zeatin, quercetin, beta-sitosterol, caffeoylquinic acid and kaempferol. Today, there is an epidemic of cancer, chronic diseases and cardiovascular diseases. This is because we do not eat what we are supposed to eat. Many people today are also deficient in antioxidants. Antioxidants protect the body cells and help prevent cancer according to the National Institutes of HealthIf you interested to hear more about this amazing opportunity let me know that... Click the link below to view the video and to get started. http://www.lclaypool.com Wednesday, Encouragement Call: Dial-in Number (712) 770-4010 Pin/ Access Code: 904359# 9:00 PM EST
Click the link below to view the video and to get started. http://www.lclaypool.com 2 MINUTE SIZZLE CALL for Life Unlimited 701-801-3125 Have a nice day...Regards from Larry Claypool. My cell # 740 404 5750
---
---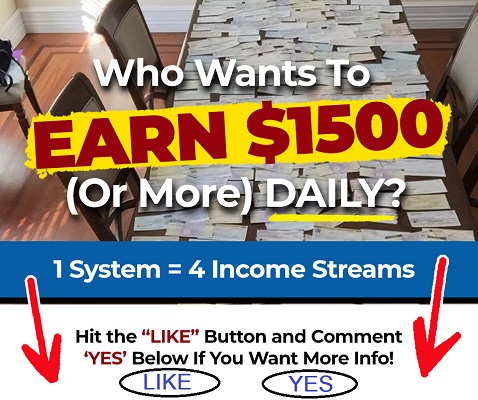 Member Ad
100 - 200 Leads Every Day
I wake up to between 100 - 200 Leads everyday. Leads that I'm able to use in my primary and secondary Businesses. It's just a Dollar a day and it works. Join my Team and start getting your leads
---
Support
Privacy Policy
Affiliate Terms
Terms of Use
Testimonials